8 July 2023
Load shedding remains the most pressing near-term issue for South African assets. Eskom and the National Government have laid out a plan to reduce load shedding over the next twelve months that relies heavily on returning a number of large generating units at Kusile and Medupi to service. Improving the performance of the remainder of Eskom's baseload fleet remains a crucial step in restoring sufficient energy supply to the country.
The chart below shows all of the reported incidences of generating units being taken offline at Eskom over the past six months and illustrates both how dire and how widespread the performance issues are.
Across Eskom's coal and nuclear fleet, we count 92 generating units, and over the past 6 months, we have recorded 194 instances of units being taken offline. The average generating unit in Eskom's fleet goes down about once every three months.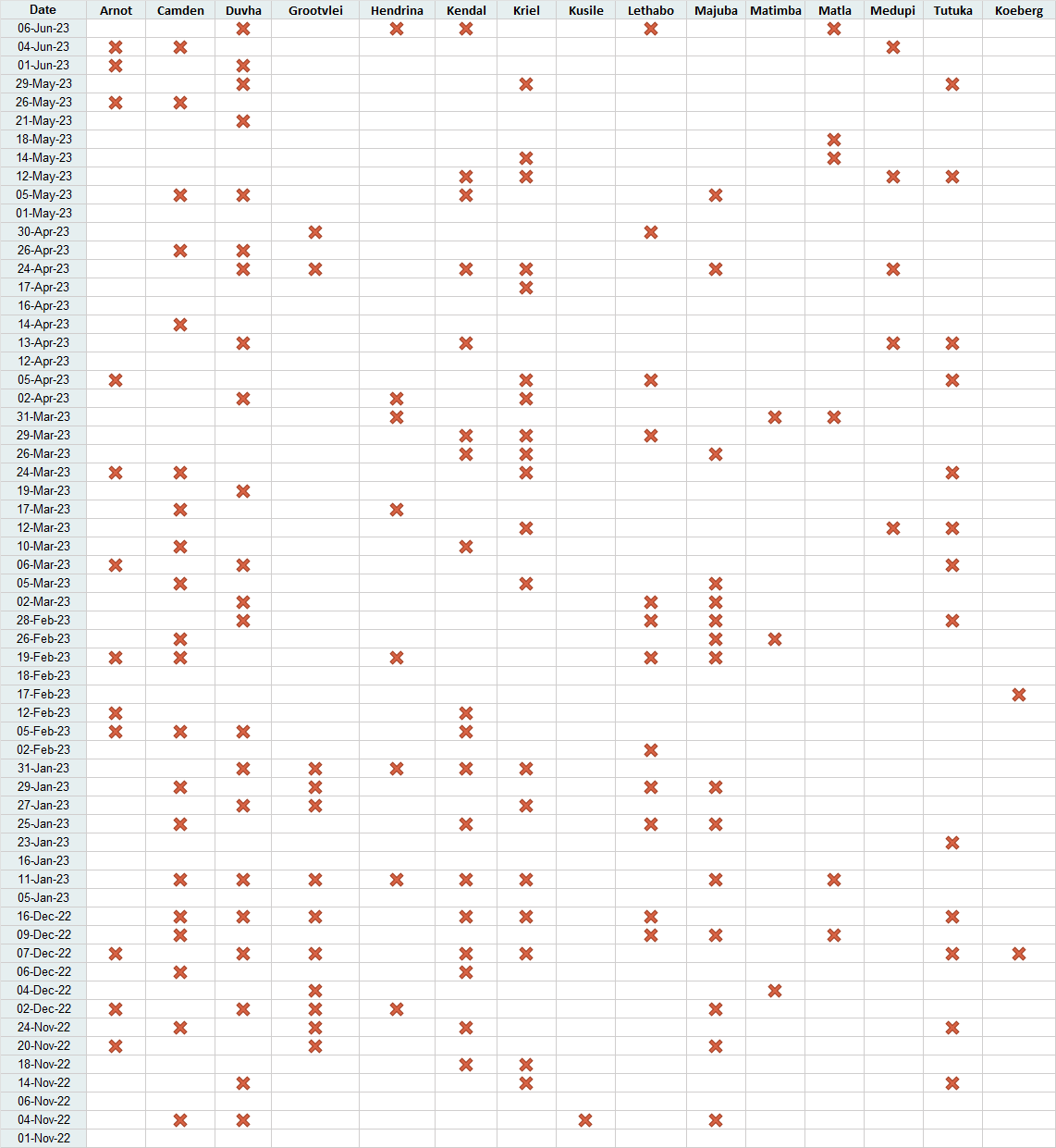 Source: Eskom, Mergence calculations
Plotting this data over time, the chart below shows the number of units taken offline each week as well as the average capacity unavailable due to breakdowns each week.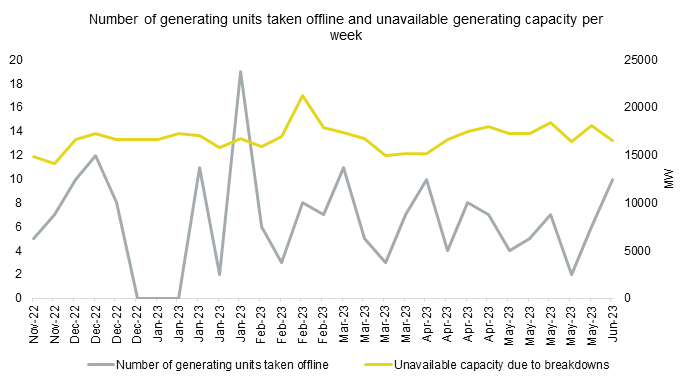 Source: Eskom, Mergence calculations
A number of interventions are being put in place to address these issues, including the secondment of private sector expertise to power plants and streamlining supply chain processes for spare parts. But with no spare capacity in the system, fixing plant performance remains akin to trying to repair a car while you have your foot flat on the accelerator trying to drive it as hard as you can.
Many South African assets, such as government bonds, some domestically focused stocks, and the currency, look very attractively priced at the moment, with the potential to generate attractive returns should Eskom manage to reduce load shedding substantially into next year. But until we see progress on the above data and some execution on the return to service of additional units at Kusile, we retain some caution about betting on a near-term reduction in load shedding.
---
We have compiled the above data using Eskom's media releases over the period from November 1, 2022, to June 6, 2023. It is not clear whether the disclosure only captures units taken offline due to breakdowns or also captures planned maintenance. It is also not clear whether the disclosure captures all instances of units being taken offline or if there are some instances of double counting. The analysis above represents our best effort to capture the data accurately.
---

Our Market Snippets email aims to provide concise insight into our investment research process. Each week, we highlight one chart that showcases our research, motivates our current positioning, or simply presents something interesting we've discovered in global financial markets.
For more of our current market views, please visit our website.