03 August 2023
Late last month, researchers from a South Korean university published a pre-print academic paper claiming to have discovered a new material, LK-99, that achieves superconductivity at room temperature. Superconductivity is the property whereby a material offers zero or near-zero electrical resistance. Thus far, we know that superconductors require very low temperatures to maintain this property.
The chart below shows the price of a contract on the online prediction market Polymarket that pays out if the results in this paper are replicated. Earlier this week, this market implied a 60% probability that the breakthrough is genuine; that has now dropped to 26%.
This is a small market; less than a million dollars have been bet on it, and financial and commodity markets have not reacted to the news at all. Nevertheless, there is genuine academic interest in this discovery, and even a small chance of such a breakthrough is extremely exciting.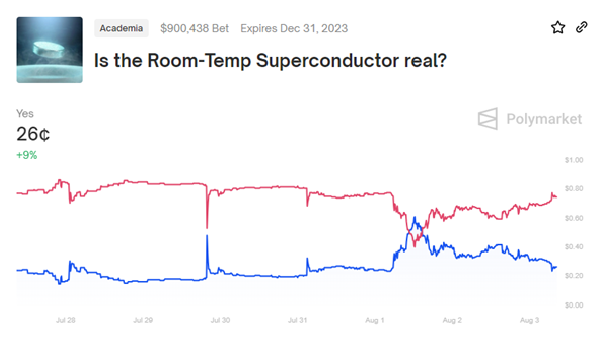 Source: Polymarket.com
The discovery of a material that exhibits superconductivity at room temperature would be a major scientific breakthrough with significant economic impacts. Removing resistance from electrical generation and transmission would potentially unleash significant gains in energy efficiency, battery storage, and computing power.
While the overall impact could be very bullish for overall economic growth and the transition to a low-carbon economy, a number of industries and companies would face significant disruption.
As investors, we are often naturally focused on the left-tail risks, the potential downside surprises such as wars, pandemics, and financial crises. It is important not to forget the potential for right-tail surprises due to innovation and human ingenuity.
---

Our Market Snippets aim to provide concise insight into our investment research process. Each week, we highlight one chart that showcases our research, motivates our current positioning, or simply presents something interesting we've discovered in global financial markets.
For more of our current market views, please visit our website.