24 August 2023
With SA CPI surprising to the downside last week and now well within the SARB Monetary Policy Committee's (MPC) target range of 3% to 6%, many will be hoping that this will allow the MPC to start considering rate cuts.
One thing that we think may keep the MPC on the hawkish side is the differential between SA and US short rates. Below, we show the difference between 3-month JIBAR and 3-month LIBOR over the past 15 years, as well as the difference in 1 year forecast inflation.
As one would expect, these two series have exhibited some correlation historically, but the gap between them has narrowed over the past year.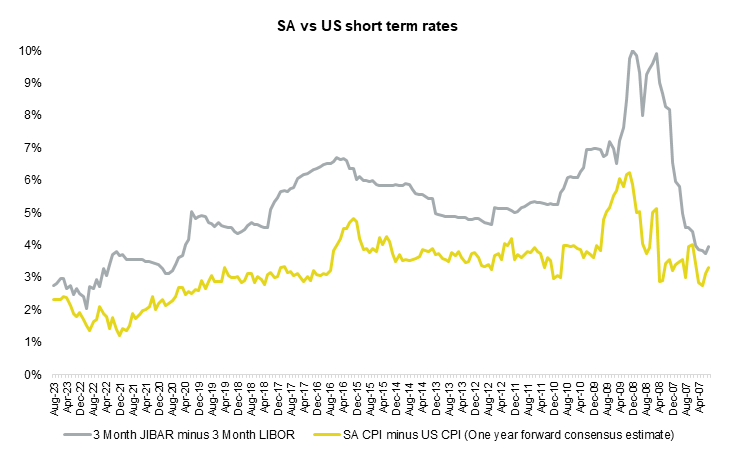 Source: Bloomberg
This raises the question of how long this divergence can last. Can tech companies continue to grow at a rapid pace if the global economy falls into recession?
On the other hand, if the current investment in computing power and AI breakthroughs delivers their promised productivity gains, will these benefits flow through to manufacturing and commodities?
---
Our Market Snippets aim to provide concise insight into our investment research process. Each week, we highlight one chart that showcases our research, motivates our current positioning, or simply presents something interesting we've discovered in global financial markets.
For more of our current market views, please visit our website.